Vancouver has become the latest city to commit to running on 100% renewable energy. The city of 600,000 on Canada's west coast aims to use only green energy sources for electricity, and also for heating and cooling and transportation.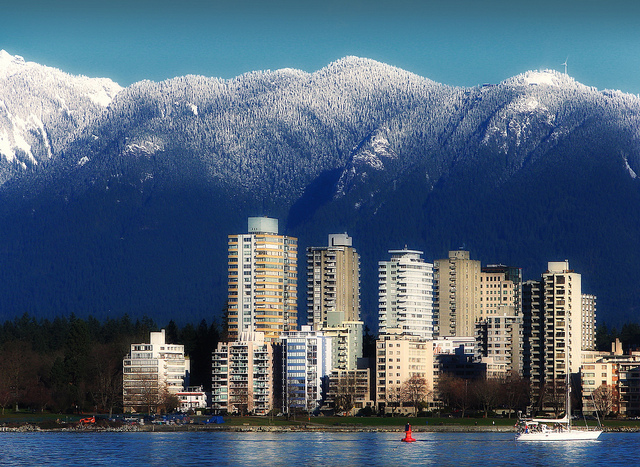 Cities and urban areas are responsible for 70-75% of global CO2 emissions and that's where "real action on climate will happen" said Park Won-Soon, Mayor of Seoul, South Korea at the ICLEI World Congress 2015, the triennial sustainability summit of local governments where Vancouver made the announcement.
"We are the green tide coming together to save the world from climate change," Park said to nearly 15,000 members of local government including more than 100 mayors.
Andrea Reimer, Vancouver's deputy mayor told the Guardian: "There's a compelling moral imperative but also a fantastic economic case to be a green city." The 100% goal is likely to be set for a target year of 2030 or 2035 for heating/cooling, with transport taking until 2040 to 2050. These could happen sooner with national and provincial government support.
People and businesses want to live and work in clean and green urban areas, said Reimer, adding that whoever develops expertise in shifting to 100% renewable energy will own the 21st century.
Vancouver can achieve 100% renewable electricity in a few years but heating, cooling and transportation will take longer. The city's ambition is to be the world's greenest city by 2020 despite the fact Canada has had one of "the most environmentally irresponsible national governments" for the last 10 years, she said.
Park announced that Seoul, with 11 million people and growing fast, will reduce its energy use and increase renewable generation, including rolling out 40,000 solar panels to households by 2018 and 15,000 electric vehicles. By 2030 it is hoped that CO2 emissions will be cut by 40%.
More than 50 cities have announced they are on their way to 100% renewable energy including San Diego and San Francisco in California, Sydney Australia, and Copenhagen. Some are aiming for 2020, others by 2030 or 2035.
Some, like Reykjavik, Iceland, are already there for electricity and heat. The entire country of Costa Rica was powered by renewables for 75 consecutive days this year.
"Just three years ago we're saying 100% renewable really is possible, now many cities and regions are doing it," Anna Leidreiter, coordinator of the Global 100% RE Alliance – an international alliance of organisations pushing for a shift away from fossil fuels.
If large utilities or energy companies are in control it will slow down attempts to tackle climate change, Leidreiter said. "The business model for renewables is completely different, it should benefit people not corporations."