Currently, there are somewhere between 5 and 7 million children in America diagnosed with ADD, or Attention Deficit Disorder. Some of them have been fed small doses of amphetamine since they were four or five years old.
I will be transparent with you today and reveal that I've suffered from ADD myself. I believe this condition comes from deeper core issues within the person. These underlying issues are important to look at in order to make an effort to resolve them.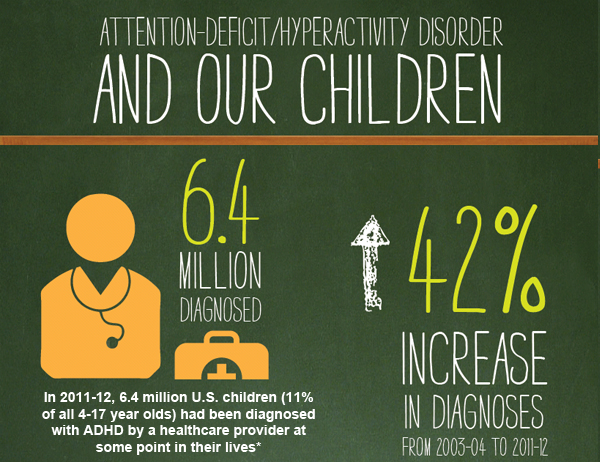 The medications on the market will certainly improve your focus and productivity. When you take the pill in the morning, it starts to kick in around an hour after. Once it takes effect, you get a stimulating boost. These boosts can feel good, yet at times overwhelming as you get a high feeling similar to recreational drugs such as Ecstasy and Speed. I am familiar with this feeling having experienced recreational drugs in my youth. The reaction is so similar that ADD medication is even sought out on the street, illegally.
I had to write this article and share this information with you because I think it's important that parents are aware of this before deciding to put their children on these medications. I was on them for around a year when I lived in Miami. They helped me get my work done efficiently but when the "high" wears off, you crash. The crash involves feelings of isolation, coldness and a feeling of disconnection from the world. If you are self-aware, you can clearly sense that your body and spirit not responding well. This crash can continue for hours and wears off slowly. The next day comes, and you basically experience this same pattern every day that you take a pill.
It is always important to get into the habit of listening to what your body is telling you. The above symptoms are serious signs that your body isn't approving of the medication.
For me, when it started to wear off around 5 o'clock, I would start to shiver. My house was warm, but I would freeze no matter how high the heat was cranked up. This is not the case for everyone. Everybody reacts differently to the chemicals. My coldness was a sign that my blood was not flowing properly. As soon as I stopped the medication, I no longer felt this side effect.
There's a lot of information out there saying you shouldn't just stop the meds suddenly. I don't encouraging people to stop suddenly simply because I don't know enough about this process. There are reported cases where people didn't do well after stopping abruptly. I can only speak from my experience. Eliminating them from my life cold turkey felt great. I had no regrets and I didn't look back.
I would rather have slightly less focus and more passion in my life than have daily crashes, anti-social tendencies and toxic chemicals damaging my body.
Having said that, it was hard for me to make the decision to stop taking the pills. I tried them again this year because my intense passion and desire to do so many things, often leads me in a million different directions. Trying to do everything at once and getting nothing done perfectly. It's hard for me to focus for long periods, and I would get so much more accomplished when I took a pill. A task that would take me 4 hours, I could achieve in half the time.
How do I feel after cutting them out? MUCH BETTER! I've been managing just fine without them and it's actually been empowering! I feel grounded and nurtured through my own true efforts and not by the quick fix of a pill.
Everyone experiences some level of stress from living in a world where we are, in many ways, enslaved by a corrupt system. There are a lot of us-even the best of us that are becoming rather zombielike.
We all need to wake up and make a change. We need to all take part in fixing these problems and take charge of creating better solutions. Solutions such as growing our own fruits, vegetables, and herbal medicines; learning to be free in our minds; as well as finding solutions to problems and acting on them. Building the lives we dream of and deserve are why we are here.
Children, teens and adolescents are part of this as they are our future. The earlier you teach them sustainable inner practices, the better you equip them for what is ahead and show them how to be meaningful participants in the world.
If I could go back and do one thing, it would be gardening daily with my daughter from the time she was a baby. This intimate connection to our earth is what will ultimately bring truer fulfillment and happiness. Healthy habits are more easily formed in the earlier stages of your child's life.
Giving a child a pill to cure certain things runs the risk of a lifetime habit of taking pills for healing and thus avoiding facing any deeply rooted issues.
We all carry within us, wounds. Some wounds possibly from past lives, but most certainly from this present one. These deeper wounds prevent us from focusing more sharply and play a role in our self-love & compassion-or lack of it. We are all truly amazing souls, and often our untreated wounds will keep us from realizing our true potential. Both adults and children must address those deeper core issues. In doing so, we live more spirited, purposeful and healthy lives.
When we take care of ourselves and face those core issues, we can heal naturally without toxic chemicals. A much truer route to healing.
The pharmaceutical pills used to treat Attention Deficit Disorder will often just mask the core issues. It does not cure them.
I admit it is not an easy task, and it takes a lifetime of dedication.
Isn't being true worth the effort?
You can sweep the dust under the couch, and it may look cleaner, but that dust is still there, building up with each passing day. In the back of your mind you know it's there. At one point if you truly want a clean home, you will have to move the couch and do a big clean up.
Investigating what those deeper issues are within yourself or your child and making a commitment to rise above them, is a great beginning. Everybody's wounded soul conflicts are unique and can change through time. Unresolved traumas can travel with us through lifetimes.
Changing diet, toxic habits that are draining you, poisonous relationships and negative thought patterns can help develop a greater acceptance and ability to surrendering gracefully to change. After all, change is a congruent part of life and rather inevitable.
Make peace with it and learn to flow with the waves. Attaching yourself to anything too tightly leads to suffering. Learn the art of letting go at each moment, each day. Be a creator and keep turning the page.
I've tried nearly all the varieties of ADD medicine. And they all more or less have the side effects I mentioned earlier. After my experience, I feel it's important to share with others and warn people. I find it most alarming that children are taking them. I can't imagine how pure little bodies are meant to tolerate such harsh chemicals or suffer from any of these serious side effects.
I'm not justifying by any means that it's better for adults to take the pills but at least they have some life experience and can be conscious of the reactions to the medication. They are able to take a mature step back and recognize that some of the symptoms they are experiencing are not normal or healthy. Children, especially the younger ones, don't really have this option.
Both children and adults can easily grow accustomed to the side effects and often tolerate them.
They learn to live with the crashes-desperate to keep the desired focus, productivity and stimulation. Not everyone recognizes that feelings such as depression or withdrawal are often being triggered or enhanced by the drugs. It especially goes unnoticed with children for they don't fully understand what it is they're experiencing.
The question that lies ahead now is, how can we treat this naturally without resorting to unhealthy chemicals?
I believe a combination of natural plant medicine, a healthy diet and commitment to caring for one's soul can help heal on a much deeper level than pharmaceuticals. Living with purpose, truth, freedom, dreams, courage and self-love are all integral parts of healing.
Standing up for justice, world peace, our planet earth, and not supporting corrupt businesses that don't have the peoples' best interests at heart are also, believe it or not, connected to healing. Universally, we all face a form of illness by inhabiting a planet with corrupt leaders, large pharmaceutical industries and corporations that are running much of the show.
The system influences and enslaves us all- much more than we are willing to see and admit. Sometimes, to escape from it, you must step outside of the box.
Think about McDonalds for a moment. The food was clearly proven to be unhealthy. Why would anyone want to keeping running a business that was poisonous to people? Money. You would imagine they would choose to invest in an alternative money-maker that maybe did something good for the planet. Or completely change the menu. Sadly, this hasn't been the case. There is enough wealth and abundance to solve world hunger and yet the struggles on planet earth seem to continue.
We can knock the big guys and point the finger all we want but who is to blame? I'd say to some degree, us! The people. These corporations and corrupt institutions exist because we support them. They exist because they have a market!
Why have we become such zombies in our culture? I won't get in to all the different conspiracy theories of why that could be but rather suggest that people, at the very least, think carefully before you invest a dollar in anything. Think twice to be sure you want to support that cause or not.
Be the change you wish to see in the World – Ghandi
I don't have the miracle cure to treat ADD naturally.
You don't need to have the perfect cure. What you need is the will to explore different natural alternatives and see what works for you.
Some days may be challenging. Other days, you might feel very blessed. Such is life. But at least you honor your sacred vessel when you try. When you make that commitment to take care of your body, mind and soul, the universe brings the perfect medicines that are meant for you.
If you are a parent contemplating giving your child ADD medication, my advice to you is to try taking the meds first yourself for a week.
Yes, I know it sounds crazy, but I'm confident that once you experience the intensity of the drugs for yourself you might have serious second thoughts. It's good to know what you're giving to someone. I never serve food without tasting it a little myself to make sure it's good.
Now that I've committed to stopping the meds and treating myself naturally, I will begin exploring…
Natural Remedies that can improve the Symptoms People Experience with ADD. Remedies given to us by Mother Nature that help treat a person as whole.
I will share these discoveries and experiences in future articles. Stay tuned! I look forward to sharing the preparations that worked for me, in hopes that they work and help others too. Also coming up in future posts, my experience with Cannabis oil for Healing. The good and the bad.
If you are living in the Montreal area and looking for natural healing help from a professional holistic practitioner for yourself or a child, please feel free to be in touch or consult the Natural Healing section of the Back to Eden Healthy Living Directory
By: Shoshana Finn