Bikes have probably been a part of your life since you were a child;
and it probably revolutionized your world, well its about to do it again!!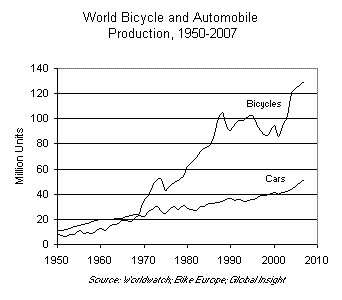 The bicycle is the global vehicle of choice; the perfect marriage between affordability and practicality. It is mass produced by the hundred of millions to meet the growing demands of our world, and in this last century we have seen bikes top the charts as the most produced vehicle in the world.
Developing nations play a big role in this increased production, but they are, by no means, the only ones buying bikes. Whether you use a bike out of necessity and need, or just for exercise and fun there is no denying its worldly applications.  Even those who have cars may still own 1 or 2 bikes of their own.
They play very important roles in our lives,
and this century is shaping up to be an important one for the Bicycle.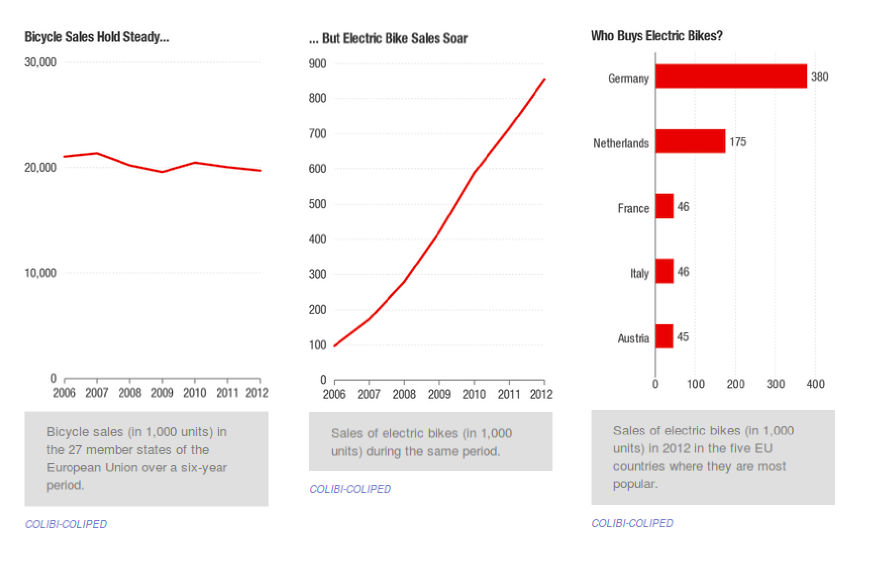 While examining European bike sales statistics, a growing trend becomes very obvious. With little growth in overall bike sales, it is clear that more and more people are switching to electric bikes.  These Ebikes have been flying off the shelves in Eroupe.  If this trend continues we could see the majority of bikes on the road switching to electric. That may already be the case in Germany.
With production cost of electric bikes decreasing every year, there is no doubt that these trends will not only continue, but are very likely to increase.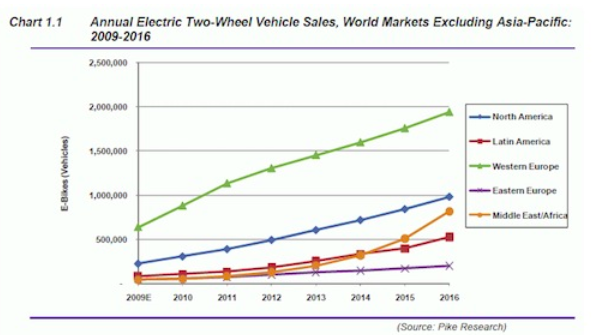 WHY ELECTRIC BIKES ARE AWESOME
#1 Costs Less Than 1 Cent/Mile
Charging the battery will show up on your electric bill. With a grand total of 3-4 cents per charge, I think this is a renewable fuel that the whole world can agree with.
Electric bicycles are zero-emissions vehicles, as they emit no combustion by-products
China is the world's leading manufacturer of e-bikes, with 22.2 million units produced in 2009
Sales of e-bikes in Germany increased almost threefold between 2007 and 2012, from 70,000 to 388,000 units per year
– See more at: http://www.goezyelectricbikes.com/blog/industry-facts#sthash.zpFZLtIh.dpuf
#2 A DIY dream
E-bike Conversion Kits are slightly more common than buying an e-bike. Converting a bike yourself can save you hundreds of dollars. If people like you and me got affordable E-bike conversion kits and installed them on their bikes at home it would truly spark an E-Bike Movement.
#3 E-bike are great for short distance travel.
We all spend alot of our time travelling short distances. The bike allows you to go from A to B in comfort, without any emissions. It is a great way for us to take individual steps towards a sustainable future.
#4 E-bikes turn people into daily riders.
Most people do not ride bikes on a regular basis, perhaps weekly, but not usually daily. After the purchasing an ebike most riders report that they are suddenly finding themselves riding daily. It is great for their health and who doesn't love the outdoors?
#5 And Its only getting started…
The technology and the market are timed perfectly to help facilitate the growth of the electric vehicles. With the introduction of new battery technologies, such as graphene, we may see an ebike in the next 10 years that can travel 100km an hour for a distance of 300 km on a single charge. Not to mention it will only take 15 seconds to charge the graphene battery, which has a million charge lifespan….
*These new batteries will be backwards compatible with all Ebikes.
Do you want an ebike now?

Please visit our electric bike project by clicking on the logo above.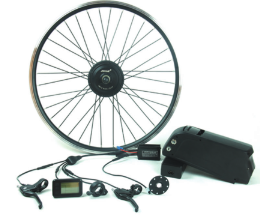 Electric conversion kits shipped directly to your door. We have a how-to video to show you how easy it can be to convert your bike into an electric vehicle.
If you don't own a bike, then we would love to make a custom Shinobi Ebike for you.
Visit the project page to learn more. https://valhallamovement.com/projects/electric-bikes-human-powered-vehicles/
Thank Your For All Your Support