With the Paris climate talks looming in December, nations are being challenged to come up with climate action plans to mitigate their own impacts on climate change. The informal target for climate plans to be submitted to the UN is today and they have begun to trickle in.
The U.S. released its plan today, putting it ahead of such major countries as China, India, Russia, Canada and Australia. Australia, which has been a laggard on climate issues thanks to Prime Minister Tony Abbott's commitment to fossil fuels, has said it will not release its plan until mid-year, and it is currently seeking public input on what its emissions reduction target should be.
The U.S. said it would reduce emissions 26 to 28 percent over 2005 levels cut by 2025, the same pledge that President Obama made last November in Beijing. Many other countries are looking to the U.S. pledge for direction.
"The U.S. is strongly committed to reducing greenhouse gas pollution, thereby contributing to the objective of the Convention," said the announcement. "The target is fair and ambitious. The U.S. has already taken substantial policy action to reduce emissions, taking the necessary steps to place us on a path to achieve the 2020 target of reducing emissions in the range of 17 percent below the 2005 level in 2020. Additional action to achieve the 2025 target represents a substantial acceleration of the current pace of greenhouse gas emission reductions."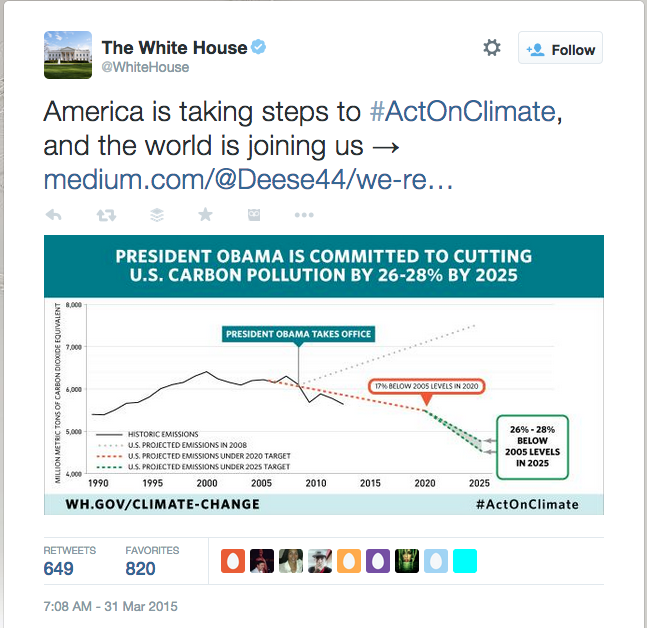 America is taking steps to #ActOnClimate, and the world is joining us → https://t.co/Ft0xj1KpIJ pic.twitter.com/yqaM9MMwgt

– The White House (@WhiteHouse) March 31, 2015
"By announcing its plan ahead of Paris as agreed, the U.S. has at least shown it is committed to the negotiation process and willing to push the other nearly 200 countries to deliver," said Greenpeace legislative director Kyle Ash. "It is incredibly important countries move quickly in developing strong proposals for climate action so we can step back and assess the progress toward an agreement in December."
Americans agree. A new poll released yesterday found that 72 percent of Americans support the U.S. signing an international climate agreement.
"We applaud the Obama Administration for following through on the ambitious commitment made last November with China by pledging clear, significant action to tackle the climate crisis and protect our children and grandchildren," said Sierra Club executive director Michael Brune. "We've seen the effects of unmitigated carbon pollution take their toll around the world, but this announcement is further proof that the U.S. is stepping up to lead the world in pursuing solutions."
"Momentum for real climate action is building at a historic rate. With our nation moving away from coal and the world embracing clean energy at a record pace, this announcement and others like it open the door to meet the 2 degree celsius goal needed to avoid catastrophic climate change. In the coming months, we expect additional ambitious commitments to pour in that will further prove the world is ready to act and keep us on the right track to Paris and beyond," Brune concluded.
On Friday, Mexico became one of the first countries to formally submit its plan, saying it will cap its greenhouse gas emissions by 2026 and reduce them by 22 percent by 2030. The country, considered an "emerging" nation, said it would do so without financial help from wealthier, developed countries.
"The U.S. welcomes the Intended Nationally Determined Contribution (INDC) submission by President Peña Nieto earlier today and applauds Mexico for being the first major emerging economy to formally submit its INDC," said a White House press statement. "Mexico is setting an example for the rest of the world by submitting an INDC that is timely, clear, ambitious and supported by robust, unconditional policy commitments. We hope that Mexico's actions will encourage other economies to submit INDCs that are ambitious, timely, transparent, detailed and achievable."
In addition, President Enrique Peña Nieto and U.S. President Barack Obama announced a new joint clean energy and climate policy task force intended to "further deepen policy and regulatory coordination in specific areas including clean electricity, grid modernization, appliance standards and energy efficiency, as well as promoting more fuel efficient automobile fleets in both countries, global and regional climate modeling, weather forecasting and early alerts system."
"On the occasion of Mexico submitting its Intended Nationally Determined Contribution (INDC) to the UN Framework Convention on Climate Change (UNFCCC), President Barack Obama and President Enrique Peña Nieto reaffirm their commitment to addressing global climate change, one of the greatest threats facing humanity," said the White House. "The leaders underscore the importance of jointly addressing climate in their integrated economy."
Switzerland was the first country to submit its INDC plan, which promises to reduce its emissions by 50 percent from 1990 levels by 2030. It did so on February 27. The 28-nation European Union (EU) followed on March 6 with a promise of a 40 percent reduction in the same time frame. Norway also submitted its plan on Friday, making a commitment identical to the EU's while suggesting it might step up its level of commitment.
"If it can contribute to a global and ambitious climate agreement in Paris, Norway will consider taking a commitment beyond an emission reduction of 40 percent compared to 1990 levels, through the use of flexible mechanisms under the UN framework convention, beyond a collective delivery with the EU," said Norway's climate and environment minister Tine Sundtoft in a statement. "We need more international cooperation to meet the climate challenge. Both Norway and the EU have high ambitions on climate and view climate measures in the context of long-term transition to low-emission societies. By linking our climate efforts, we can achieve better results."
According to the New Climate Institute, which is tracking the submissions, the first wave submitted by the end of March is expected to cover less than 30 percent of global emissions, but more than 50 percent are likely to be covered in plans submitted by June. Oct. 1 has been set as the deadline for the submission of all INDC plans in order to assemble the final report for the December talks.
Paris itself is gearing up for the talks by moving toward divestment. Paris city council voted earlier this month to divest from fossil fuel holdings, the first European city to do so. If ratified by Paris Mayor Anne Hidalgo, it would bar the city's newly created endowment fund from investing in fossil fuel industries and phase out such investments from the city's pension funds.
In an open letter to Hidalgo, 350.org founder Bill McKibben, 350.org France campaigner Nicholas Haeringer and This Changes Everything author Naomi Klein, along with 18 French co-signers, said, "People concerned about climate change were so happy to hear the news that the Paris City Council had gone on record as favoring divestment from fossil fuel companies. The motion is a very important step towards a fossil fuel free future. That's why it's so imperative that the city government now agrees to implement this wise recommendation, and ensures that the newly created endowment fund never invests in fossil fuel companies, while making sure that the council members' pension fund divests from the sector."
"With Paris playing host to the next climate talks at the end of the year, it has a responsibility to set an example and to go a step further," they added. "The city could take a leadership role in local authorities' climate action and call other cities in France to join the divestment movement. The momentum behind a Fossil Free France would help immeasurably as the world heads toward the important climate negotiations in Paris this December."