Students at the London School of Economics have occupied a central administration room at the university in protest at what they call the marketisation of higher education.
The group of about 40 students used bicycle locks to barricade themselves in the Vera Anstey Suite of LSE on Tuesday night and have remained there since.
Organisers say the occupation they call the "Free University of London" aims to create an "open, creative and liberated space, where all are free to participate in the imagining of a new directly democratic, non-heirarchical and universally accessible education".
They maintain the occupation is an attempt to change the "profit-driven and bureaucratic business model of higher education" that has locked students into debt and perverted the purpose of university.
A list of demands, released on Wednesday, called for LSE management to lobby the government to scrap tuition fees for all students, end zero-hour contracts for university staff, cut ties to organisations involved in wars and military occupations, and to ban police from entering the university campus.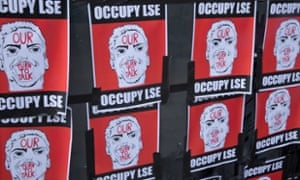 "We demand an education that is liberating – which does not have a price tag. We want a university run by students, lecturers and workers," the students wrote.
"When a university becomes a business the whole of student life is transformed. When a university is more concerned with its image, its marketability and the 'added value' of its degrees, the student is no longer a student – they become a commodity and education becomes a service. Institutional sexism and racism, as well as conditions of work for staff and lecturers, becomes a distraction for an institution geared to profit."
The occupied space is being used as a hub for political discussion and debate, with workshops run throughout the day, including one entitled "Why is free education necessary in 2015?".
One of the occupiers, Jade Jackman, said the group's main aim was to start a dialogue with university management. She said: "We've opened up the door to lots of students who are coming in to talk about our demands. We want them to represent what all the students think. We just had an economics forum and a lot of people were talking about how they're dissatisfied with the way economics is taught, because it means that we don't see finance in a different way, we don't compute it.
"We have one of our professors here at the moment, and we're going to have a conversation with him, as well as with [political commentator] Owen Jones. The administration director called us this morning but we said that we didn't any of the administrative staff in the room."
A statement from LSE commended the students' desire to achieve change. "On Tuesday evening a group of approximately 20 students occupied the Vera Anstey Room in the Old Building at LSE, highlighting a broad range of demands relating to higher education," it read. "LSE was founded for the betterment of society and it is clear that this principle continues to be a guide for many of our students. Exchanges between the group and LSE security staff have been positive."
The LSE occupation comes as students in the Netherlands this month called for similar changes to the country's higher education system. Dutch students occupied the University of Amsterdam's Bungehuis building in February, which resulted in the university board of directors initiating a lawsuit against the occupiers seeking a fine of €100,000 per student per day.
In 2011, LSE students carried out an occupation successfully calling for an end to the university's relationship with Saif al-Islam Gadaffi, the son of the late Libyan dictator, amid charges of crimes against humanity. The previous year, students at University College London occupied a central area of the university in protest against government cuts and fees.