Solar panels are pictured on the roof of the Protestant Reformed Church in Vienna April 9, 2013. Many religions have been wary of moving to install renewable energy sources on their places of worship, from cathedrals to mosques – or of taking a strong stand on climate change in general – despite teachings that people should be custodians of nature. But slowly, that may be changing, thanks to new religious leaders including Pope Francis, the head of the Roman Catholic Church.
One of Austria's largest states publicized that it will run on 100 percent generated electricity coming from renewable energy resources. Lower Austria will be producing power coming from hydroelectric mechanisms, wind farms, biomass, and solar panels.
Lower Austria, one of the nine states of Austria, will be generating electricity coming from renewable resources. One of the region's main power sources will be coming from hydroelectric power plants on the Danube River.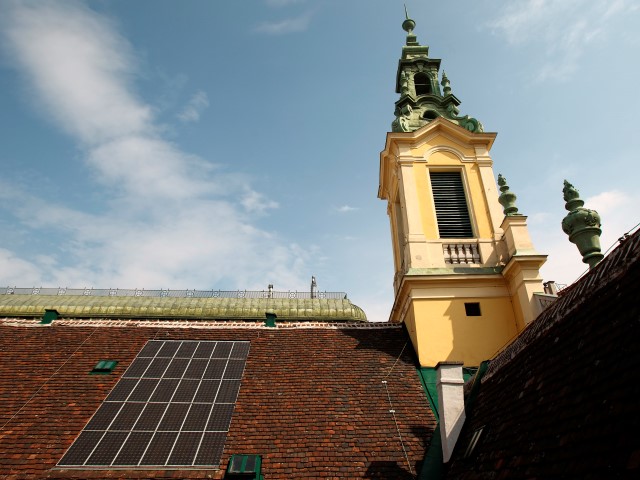 The Danube River is Europe's second largest river. The river has aided claims of Lower Austria's 63 percent generated electricity, which comes from hydroelectric resources. The region's electric production is categorized as hydroelectricity, 26 percent that comes from wind energy, 9 percent from biomass, and 2 percent from solar energy.
"We have invested heavily to boost energy efficiency and to expand renewables," Erwin Proell said, premier of Lower Austria. "Since 2002 we have invested 2.8 billion euros (US$3 billion) in eco-electricity, from solar parks to renewing (hydroelectric) stations on the Danube."
This achievement of Lower Austria is an inspiration of hope amidst grim environmental news. This is also an evidence of how much the state has exerted to producing clean energy and diminishing carbon emissions.
As for Austria's rest, 75 percent will be coming from renewable energy resources and 25 percent will be coming from fossil fuels. On the employment part, the country's lower region claims to create 38,000 jobs in the renewable energy sector. The country as a whole aims to increase the total number of 'green jobs' by 2030 to 50,000.
Austria has been in the lead in the European region when it comes to generating electricity from renewable energy resources. Following behind are Denmark, Latvia, Portugal, and Sweden.
As part of a European clean energy ecosystem, Sweden has announced its aims of becoming the world's first fossil fuel-free country. On the other hand, Denmark is enjoying its success in generating renewables through wind energy. Elsewhere, Norway is banning cars from its capital city to reduce carbon emissions in half.