Like a scene from "Spaceballs," one Canadian banker has lucked into a potentially lucrative career as the co-founder of a new company literally selling bottles of air to smog-ridden China. Now, what started as a joke prophesied in the 28-year-old sci-fi comedy is a viable, booming business.
Vitality Air's Moses Lam says he sold his first bag of air as a joke with co-founder Troy Paquette on Ebay. It sold for "less than 50 pence." The next bag, however, sold for £105, or $160.
"That's when we realised there is a market for this," Lam said.
Founded only last year in Edmonton, the Canadian start-up company now markets "fresh air from the Rocky Mountains," and China is scrambling for the luxury of even one short, clean breath of air ever since the company began shipping there a mere two months ago.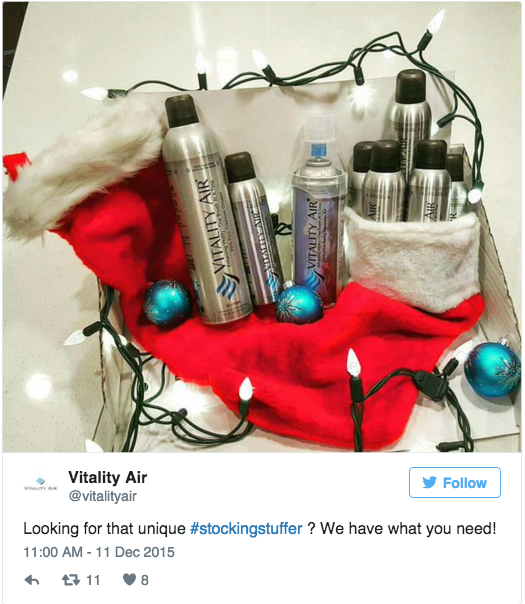 "Our first shipment of 500 bottles of fresh air were sold in four days," Lam told the Telegraph in a phone interview. Currently, a crate is carting an additional 4,000 bottles to China, but a majority of those bottles have already been sold.
Vitality Air nabs 100 yuan (£10), or just over $15 for a 7.7 liter can of Banff National Park Rocky Mountain air. That's 50 times higher than the cost of mineral water in China.
Air pollution in China has gotten so bad, especially for those living in its cities across the northeast and in the south, that Xinhua, a state-run news agency, tweeted an image, Tuesday, of the city center nearly invisible beneath a quilt of heavy smog. Its caption clearly underlines local frustrations: "Heavy smog hit China, again!"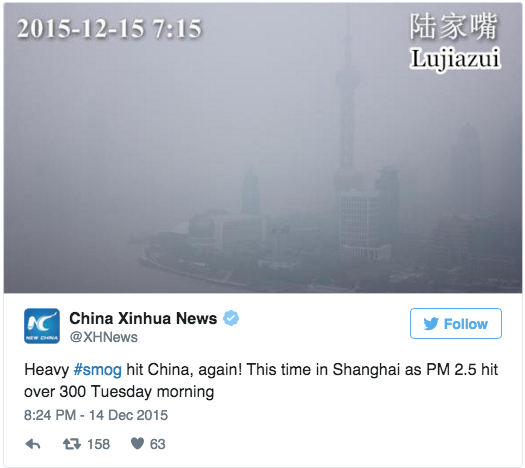 That tweet came only a week after Beijing was hit with a red alert for its air pollution, resulting in half the city's vehicles promptly being parked, even on the sides of roads, until things blew over.
Lam and Paquette are not the first jokesters to bottle air and sell it to China, though, either. Beijing artist Liang Kegang pulled in £512 (roughly $770) last year for a glass jar he claimed to have preserved from a trip he'd taken to southern France. The year before that, multimillionaire Chen Guangbiao hocked air that wasn't even from the Rocky Mountains. It was merely bottled in less-polluted regions of China, in pop cans, and sold for 5 yuan, or 77 cents.
According to Vitality Air's China spokesperson, Harrison Wang, most of the company's clients tend to be wealthy Chinese women out to find appealing gifts for friends and family. But even the elders and the jet set are taking interest, as Vitality Air also sells well in senior homes and posh nightclubs.
"In China fresh air is a luxury, something so precious," Wang said, and business is good. New potential distributors approach the company all the time.
Explore. Dream. Discover. Breathe. pic.twitter.com/boAcLc8Qif

– Vitality Air (@vitalityair) September 1, 2015
China isn't alone in its interest in bottled air, either. Vitality Air also sells all over North America, India and the Middle East, though China remains its biggest market overseas at this time.
What Vitality is struggling with the most is keeping up with demand. Claiming they bottle every bottle by hand, Lam stated, "It's very labour intensive but we also wanted to make it a very unique and fun product."
"We may have bit off more than we can chew," he added.
Vitality Air's success comes as an enormous, delightful surprise, considering it began as a joke selling something entirely free at the moment, and something everyone needs but almost everyone takes for granted. Lam's parents have told him, however, not to quit his day job, and he hasn't.