Light breaks through the open window of our temporary home in Vanuatu and I rise from bed, following the sound of children laughing and a dog barking. At intervals, the stillness of the island air is disrupted by the drone of relief helicopters, swaying back and forth over the capital Port Villa.
After a quick bite of bread and butter, I jump into a van with our host, Honore. On the surface he is a stern tank of a man, but conversation opens the door to a warm and gentle demeanour, and his compellingly beautiful Bislama and French tinged accent. I am instantly hooked by his presence.
He takes me to his local church, which served as an evacuation centre when Cyclone Pam crashed through the island. Honore is a church leader and helped direct over four hundred people into the church to safety. Once satisfied that everyone inside was secure, he returned home to his family and they sought refuge between the four concrete walls of their guesthouse.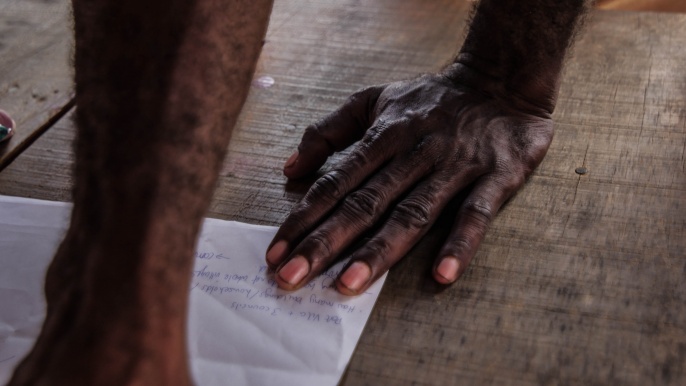 "We only lost our gate and our kitchen door. We were lucky. Others have lost everything".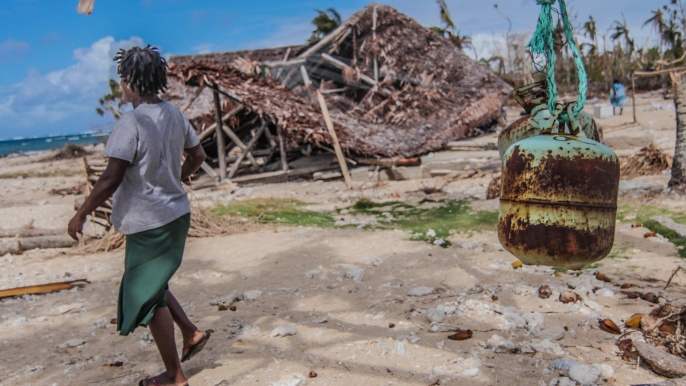 He begins to explain the terrifying four hours of unpredictability that Cyclone Pam brought to him and his family. Regarded as one of the worst natural disasters ever to hit Vanuatu, a country which is no stranger to cyclones, Pam crashed into the island on March 13th, with winds peaking at 250 km/h (155 mph). Honore sighs. "I have never seen a cyclone like this. It was devilish. It was disastrous".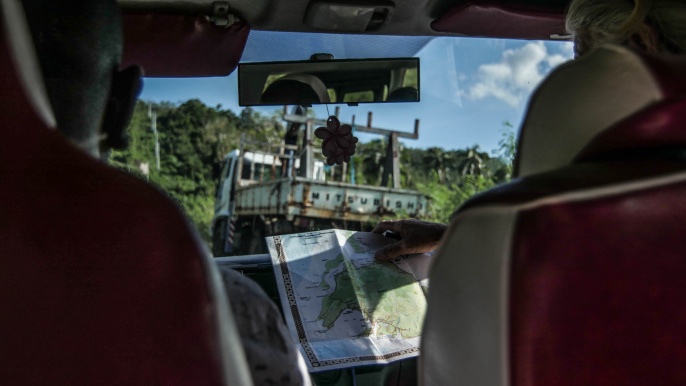 From the church we head into the main town of Port Villa, where we are approached by a man from a village in Northern Efate. He travelled to Port Villa early that morning with his brother, a village chief, to find safe drinking water for their village, Takara. Along the way they became separated; we give him a mobile phone and eventually the pair reunite. While one brother continues the search for clean drinking water, the other accepts our offer of a lift back to his village, and invites us into his community.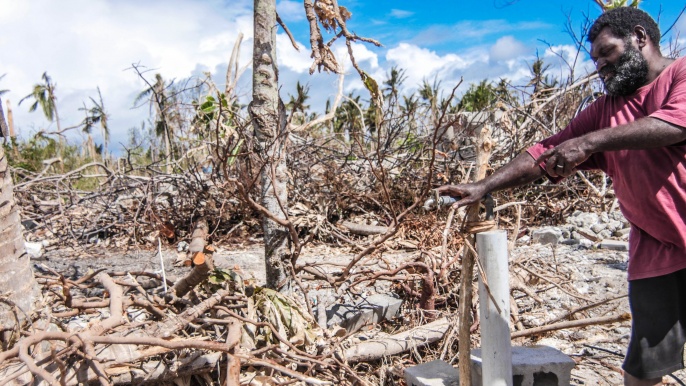 We drive down a dusty dirt track and approach sporadic remains of what once were homes. Children's clothes are scattered among fallen trees and tin roofs. As our team sits down with members of the community to assess the extent of the damage to homes and crops, I begin to journey through the piles of wood, ducking under slanted structures and stepping over obstacles which contain the memories of the community of Takara.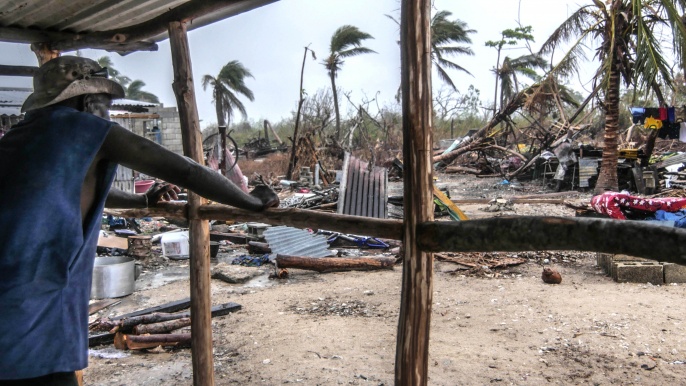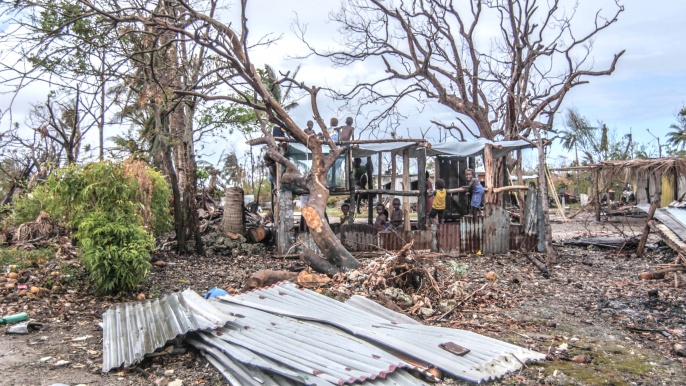 I approach a home that is now only a skeletal wooden structure. The roof has blown clean off, and now a tarp catches drips of rain water. On top, seven children with tiny mugs precariously collect the rain water, pouring it into a small bucket and passing it down a chain until it reaches an older woman with loving, welcoming eyes. I ask her what they are doing. "We are saving this rain water to wash our dishes…and shower our bodies".
This village has been without clean drinking water for fourteen days; their water system torn apart by the storm. The lady tells me how she protected her children by running to the windowless local school as the winds picked up and Pam crept towards their community. "We moved them from one building to another because the water was coming in. The younger children know the cyclone destroyed their home, but they don't really understand. The eight to ten years olds, they understand what has happened. They are sad for their loss".
As Honore and I say our goodbyes and begin the journey back to Port Villa, I ask him why he thinks Cyclone Pam happened. "To me, it is just another cyclone. We have them every year almost. That is all I have known. But if you ask an elder, he will tell you differently. He will say it is because of climate change because he did not see them like this when he was young".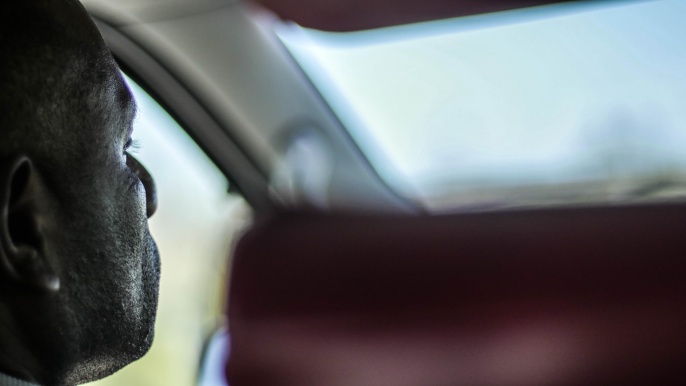 A spin on the norm. Back home we commonly judge the older generation for being ignorant to new revelations in science, but here in Vanuatu it appears that the immunity to cyclones that the younger generations possess has ultimately created complacency towards the life threatening progression of natural disasters in this region of the South Pacific.
Despite global warming becoming an avid part of current academia and political discussion, could it be that long life experience is the only thing that can make the people of Vanuatu see these devastating events as more than just an annual tradition.
---
This story is told and lived through Chloe Lyttle, while working as an All Hands Volunteer. It is delivered to your consciousness to provide a lost narrative and an empathic dose towards humanity's wellbeing. We are one global family.
(Cover Photo, Credit: Ayashok Photography)
(Body Photos, Credit: AllHandsVolunteers)