With populations getting denser in metropolitan areas, we are losing space for our food to grow around us.  Many people observed this growing issue and started researching solutions to grow food effectively in their homes. These ideas developed into technologies (IE: The NutriTower) and are starting a revolution home gardening. Here's why they did it, and why you should to:
1. Your food is healthier and tastes fresh
It goes without saying that fresh foods taste better, but that's not the only reason you want to eat it soon after you picked it. The moment that you chop your vegetable off its plant, you start losing nutrients from the newly exposed surface. More vitamins and minerals are lost when it's soaked in water or when it's heated up after being frozen.
2. It grows all year long
When you live in colder climates, growing food is limited by the seasons. Luckily, if you know how to set up your system properly, you can grow your food all year long. Otherwise, systems like NutriTower are pre-made so that you get to eat food you grow every day of the year.
3. Do your part for our planet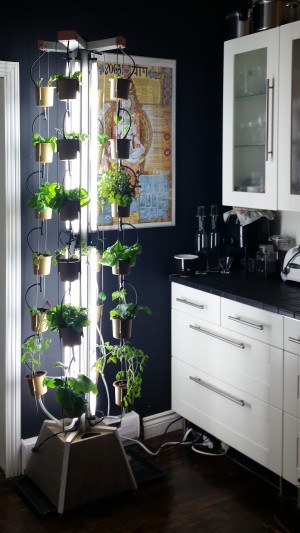 There are many reasons why growing your food at home positively impacts our environment. Vegetables that you find in your market aren't always grown locally. Most of them are shipped over long distances and consume tons of energy to get to your mouth. During those trips, the vegetables are often frozen to "stay fresh", and we've seen earlier that they lose nutrients when they warm up.
Not only that, energy and resources are wasted to properly package the food and present it to maximize sales. Water is wasted to spray on the food so it keeps looking fresh, losing even more nutrients.
Growing your food at home is a step towards a more sustainable future.
4. Your kids will get involved
Kids nowadays are disconnected from the food they eat; they don't know where it comes from and what it provides to us. This can be easily solved when having food grown at home. If your kid grows peas, he will eat the peas. There is a connection between a gardener and his food, and kids definitely feel that. So if you want them to learn about their food, and eat healthier, growing food at home is a great idea!
NutriTower has a special package for teachers who wanna grow food in their classroom and parents who want their kids to learn more, make sure to check it out!
5. Pesticides.
With pesticides being sprayed all over our fields today, we can never feel too safe eating what we find at the grocery store. Having food grown right next to us isn't only convenient, it gets rid of that concern; you know exactly what goes on!
6. Save money
Unfortunately, most (if not all) governments have created elaborate ways to prevent us to print their money. Luckily, growing food is still possible! The abundance created from growing your own food is unreal. The very plants that you take care of provide you with the seeds needed to grow even more. Sure you may need an initial investment to build your system, but after that growing food is pretty much like printing money.
7. Population concentration
A majority of our population is moving to live in urban cities. As we continue to converge into denser areas, we won't have a choice but to grow food in our homes and offices. Systems that can do this, without needing to be exposed to sunlight or water, allows us to grow more food in less space.
8. You feel great growing food
Not convinced yet? How about "just because it feels great". Many researches have proven that having plants growing around us, makes us feel better, let alone growing them. The plants give life to the space around us, and relaxes us when we take care of them. We feel connected to the life around us and the abundance it creates for us.
Get started!
People have been talking about systems to grow food at home for a while now. If you have the engineer knowledge to set up your own system at home, maybe it's time to get yours up! I'm personally excited to try the NutriTower at the Valhalla land and see what plants I can grow in the system.
This awesome startup created a solution for the home-grown food revolution and needs our help raising the funds needed to manufacture it! Only 100 of them need to be sold to reach their goal and continue on their mission. Show them some support by checking their website and find their kickstarter campaign in the link below. You can also check out this article that explains what the NutriTower is all about!